Waterway News
---
Drink Upgrades at Waterway: For the Health-Conscious Purists
---
From sparking tea to pressed juice, Waterway can quench your thirst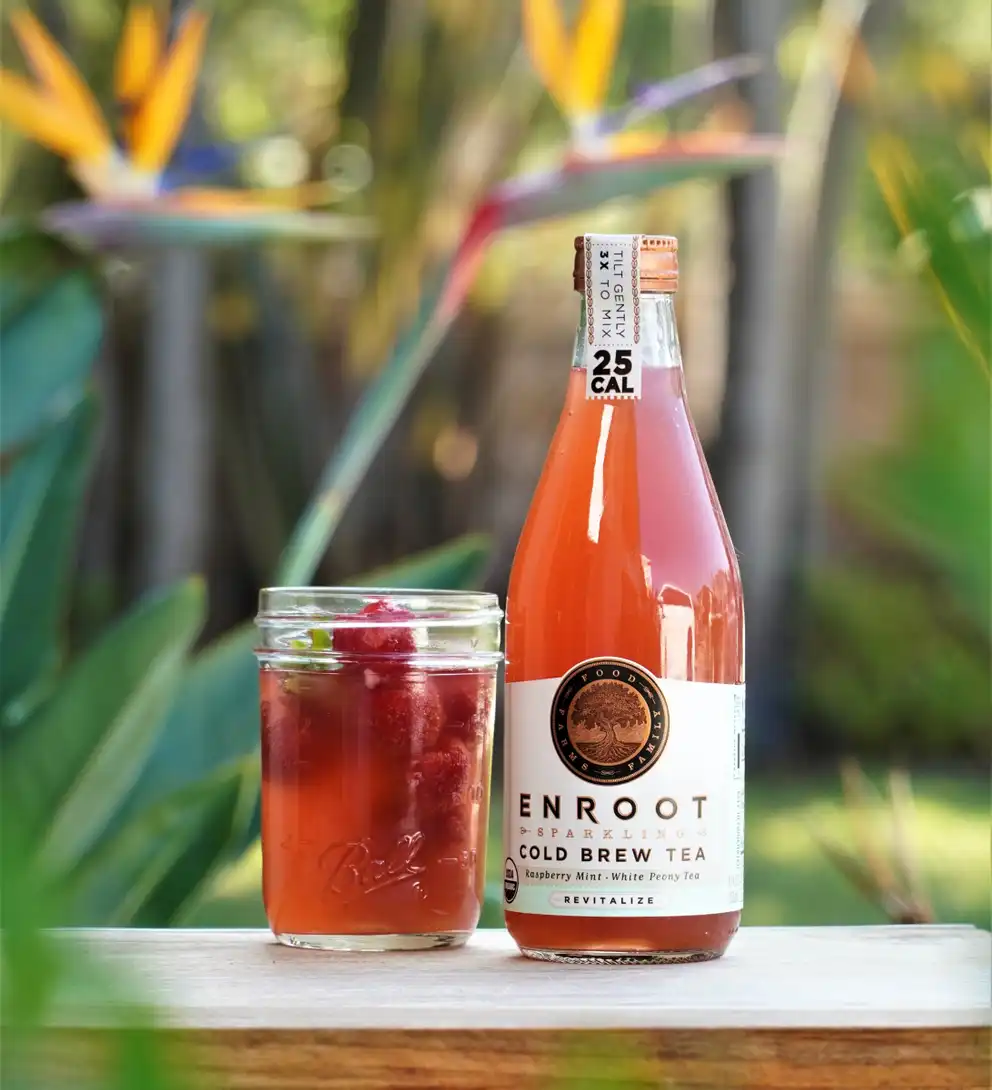 Enroot Iced Tea
Ever wanted to meet Brad Pitt? (Don't we all?) Each sip you take of Enroot iced tea is one sip closer to achieving that dream. That's because Enroot, the farm-to-bottle tea crafted by James Beard chefs, is founded by Brad Pitt and his friends, Cristina Patwa and John Fogelman.
Its celebrity status aside, Enroot is the epitome of first-class. To gain its full, all-natural punch of flavor before bottling, each batch of tea is slowly brewed over the course of 3 days. The result is a vegan and gluten-free drink with no Stevia or added sugars – just 25 clean calories of USDA-organic goodness.
Grab a few bottles of Enroot Raspberry Mint White Peony or Peach Hibiscus Jasmine Green Tea at your Kirkwood Waterway store.
Rishi Tea & Botanicals Sparkling Iced Tea
Craft-brewed without any nonsense – Rishi uses real plants and botanicals, not sweeteners, artificial flavors and preservatives – this sparkling iced tea soothes the soul while also hydrating the body.
Waterway carries two miraculously flavorful Rishi Tea & Botanicals Sparkling Iced Teas:
Grapefruit Quince - A mixture of aromatic yuzu, quince and hibiscus provides a perfect, balance of 'puckeringly tangy' and 'supersweet', and it's all topped off with a refreshing burst of citrus thanks to added lemongrass and real grapefruit peel.
Elderberry Maqui - Full of antioxidants like black elderberries, wild maqui, and vine-ripened red grape skins, this sparkling tea has a wine-like profile that is further enhanced by hibiscus and natural herb accents.
Pick up a 12-ounce can of hearty-healthy fizzy tea to go – or enjoy it while you're waiting for your car to get washed.
Patrick Font Pressed Juice
Southeast France's famous export isn't cheese – it's Patrick Font's legendary pressed fruit juices.
All Patrick Font cold-pressed juices are organically produced and contain no additives, preservatives or sugars – just pure, unadulterated, "pop you in the face" flavor, such as Spanish Blonde Orange, Bergeron Apricot Nectar, and Yuzu Apple.
Visit your Kirkwood location to try one for yourself, and you might just start speaking with a French accent. Oui!
Sports & Energy Drinks (Alani Nu, Celsius & Nooma)
Long night? A boost of energy should make you right as rain. Stroll on over to our coolers to view our selection of new energy drinks.
Alani Nu
Whether you're struggling to finish your reps or trying to power through the post-lunch blues at work, you'll find a solution inside a can of Alani Nu Energy. Each can provides you with up to 200mg of caffeine and vitamins B6 and B12.
We now carry four Alani Nu flavors: Breezeberry, Mimosa, Tropsicle and Watermelon Wave.
Celsius
Celsius stands out amongst other energy drinks on the shelf thanks to its list of healthier ingredients, like ginger, green tea and guarana. Celsius drinks are certified gluten-free and non-GMO, have no artificial preservatives like corn syrup, and contain no sugar. Just pure energy to accelerate your metabolism and help your body get work done.
We stock four sparkling Celsius flavors: Tropical Vibe, Peach Vibe, Sparkling Apple and Sparkling Orange.
Nooma Organic
Advertised as the "better kind of sport drinks," Nooma's organic, low-sugar offerings are refreshingly void of the junk found inside non-Nooma energy drinks. With natural electrolytes provided by coconut water and Himalayan pink salt, you'll be able to fight muscle fatigue and cramps, improve your ability to focus, and tell your dehydration headaches to take a hike.
We carry three Nooma Organic Sports Drink flavors: Watermelon Lime, Blueberry Peach, and Lemonade.
Bottled Water
As always, you can stop by your Waterway convenience store for a cold bottle of 0-calorie water, both flat and sparkling, including Waterway Spring Water and nearly a dozen other brands. Thirst, quenched.