In The Community
Contributing. Caring. Collaborating. It's in our DNA.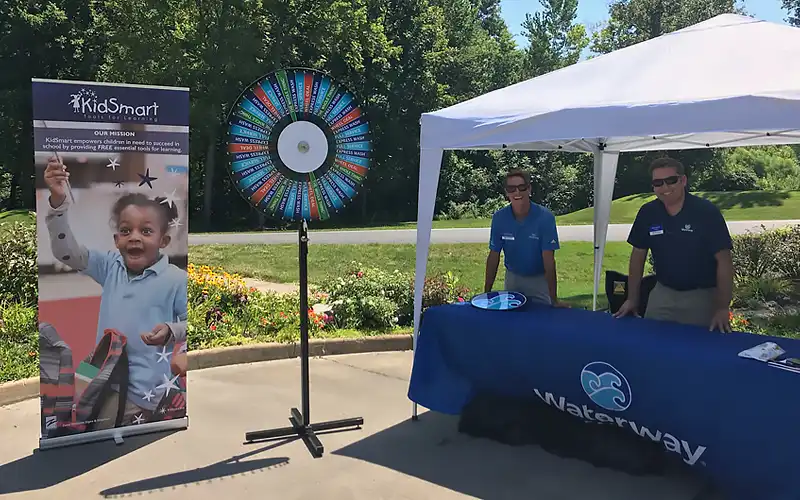 Doing good in the neighborhood
We strive to be a welcomed neighbor in the communities we serve.
Waterway stores are designed to match the surrounding architecture and fit with the character of the communities in which they are located. They are well-appointed and attractive, a nod to the award-winning architects and landscape designers who created them. Their premium materials and finishes reflect the brand and business, and make the stores well suited for any upscale retail section of a town.
Waterway is a committed corporate citizen, and we're in it for the long haul. We expect to operate each new location for more than a generation and invest heavily to maintain and upgrade our facilities over time.
We have a history of working closely with municipalities and elected officials to build win-win relationships that last well beyond initial zoning and permitting. Our team can be counted on to pitch in to support community events, initiatives, local schools and charities. We even have a special discount program for local educators and students.
A key step in achieving our intended longevity is developing strong relationships with community institutions. We often start with the local chamber of commerce, which connects us to other businesses, and local schools, which are important partners in meeting staffing needs.
As a corporation, we have a long history of supporting national organizations, such as Mothers Against Drunk Driving (MADD) and Junior Achievement. Each Waterway location is also dedicated to finding ways to support neighborhood causes.
Since the 1970s, Waterway has donated more than $1 million in car-wash services to local 501C3 groups to be used in auctions, as door prizes, as rewards, and more. We've also recently begun a major initiative to support non-profit fundraising.