Associate Opportunities
Make great money and have fun doing it.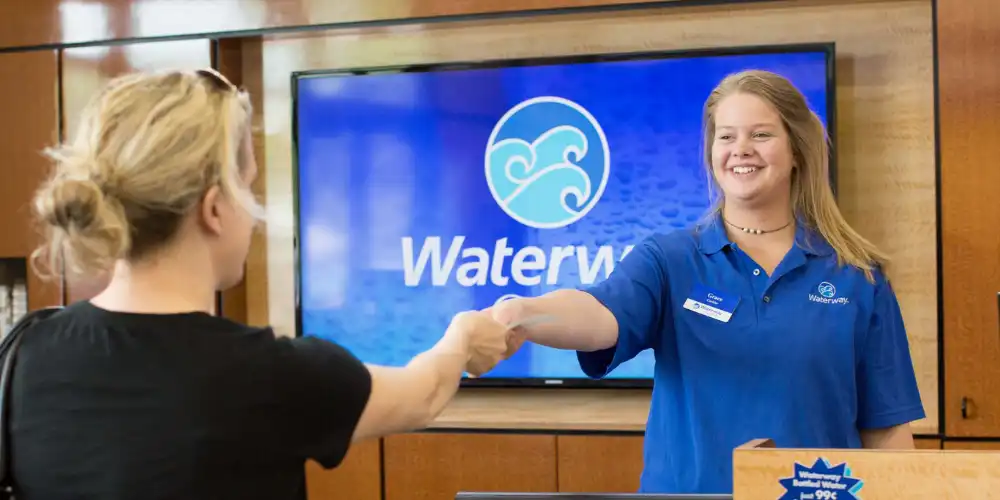 AUTO DETAILERS, CASHIERS, AND CUSTOMER SERVICE ASSOCIATES
Whether you work outside on the line or inside the Waterway convenience store, you have to be a great teammate.
We're looking for detail-oriented, outgoing, and energetic people who want to work in a fast-paced, fun work environment.
This is no office job. You have to be a self-starter. The harder you work – the more satisfied your customers are – the more money you can make. Yes, you clean cars. But, above all else, you are responsible for providing the highest quality car wash experience for your customers and ensuring that everyone leaves your lot happy.
Perks of Working at Waterway
Our office environment is literally the natural environment – breathe it in!

Great Teammates (fun, friendly, and service-oriented)

Opportunities for Advancement and Growth (set your own goals, set your own pace)

Flexible Schedule (daytime, afternoon, and evening shifts available)

No Late Nights (we're not open late, so you don't work late)

Every Day is Different (it's definitely not boring – nurture your dynamic, problem-solving self)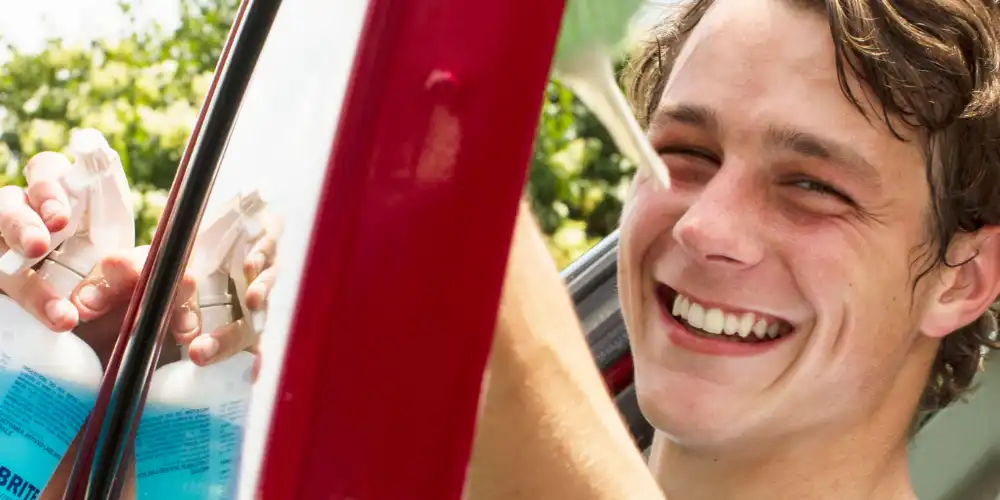 ---
What You Should Know About Working at Waterway
A job at Waterway Carwash is much more than just cleaning cars. It takes a special type of person to appreciate and pursue the opportunities herein. Behind every employee smile is a dynamic individual who enjoys bringing out the best in others. The people who wear Waterway blue truly define the customer experience. We're looking for the best and brightest to carry on our traditions of great service, attention to detail, and customer satisfaction.
---
Available Associate Opportunities at Waterway
Auto Detailer / Line Associate
Work outside with a team performing high-quality detailing of customer vehicles, both inside and outside. Assist and help guide vehicles into the wash tunnel. Provide top-notch customer service, and ensure we deliver on our service expectations.
Cashier
Primarily work inside the convenience store and handle all payment transactions—suggestive selling of Waterway memberships and coupon books. Our cashiers keep the convenience store clean and well-stocked and help customers with whatever they need.
Customer Service Associate
Work outside with a team as you greet customers upon their arrival. Introduce customers to the Waterway experience and our menu of car wash options. Effectively use our mobile tablets to sell waterway memberships and assist customers in managing their accounts.
---
FAQs
Do I have to have a Driver's License to work here?
Yes, all Waterway employees need a valid driver's license regardless of their position.
I completed my job application. When will I hear back if I'm selected?
Please allow up to 5 business days for us to review your application. If we would like to move forward in the interview process, you will be contacted using the phone number you provided.
Who can I contact to check on my application?
Typically, we will contact you within 5 business days if we would like to move forward in the interview process. If you have any questions that aren't answered here, you can email recruiting@waterway.com
What characteristics are you looking for in potential team members?
Waterway is known for our employees! We are looking for friendly, energetic, and outgoing people who like to have fun at work. Checkout a list of Waterway's Core Values.
How can I prepare for my phone screen or interview?
Be prepared to discuss why you can provide great customer service, examples of how you are a team player, and why you're excited to work at Waterway!
Where is Waterway located?
Waterway has locations in 5 major metropolitan areas: St. Louis, Kansas City, Denver, Cleveland, and Chicago. For a full list of locations, please click here
---